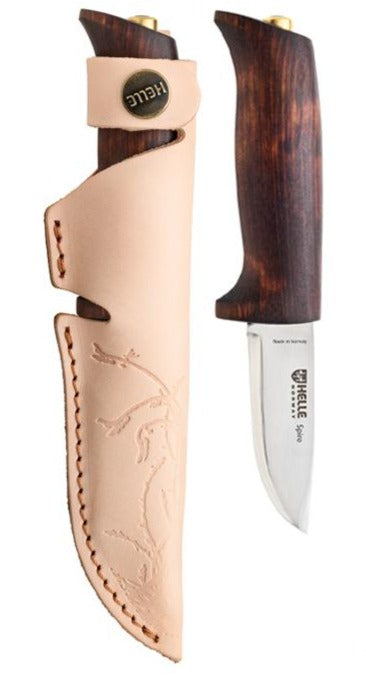 Helle Spire Knife
Regular price $74.00 Sale
The Spire knife is small and has a blunt tip, it still has a point to make. The spire knife embodies all the classic features of a full-grown knife in a small package. Designed with the intention to be used by a new generation of outdoorsmen and women. This knife quickly became a favorite in the Helle design team for it functionality and EDC size.
The shape and well-proportioned handle is shaped to fit smaller hands as a full grip, and at the same time it works really well as a three finger grip for grown-ups. So, in the end it became a small and sturdy knife suitable for beginners, (and kids – when accompanied by grown-ups) and at the same time real knife that you can enjoy and grow with. 
The Spire has 12C27 Sandvik steel scandi grind blade with a blunt tip for safety reasons, suitable for a beginner. Yet is became a favorite in the test team as a tool to have around all day. 
Specifications                    Spire
Blade material:                   Sandvik 12C27
Blade thickness:                 2,6mm
Blade length:                      67mm
Blade construction:           Stick tang
Handle:                               Dark colored Birch
Handle length:                   88mm
Sheath:                               Natural color of high-quality leather
Design by:                          Helle team
Design year:                       2021