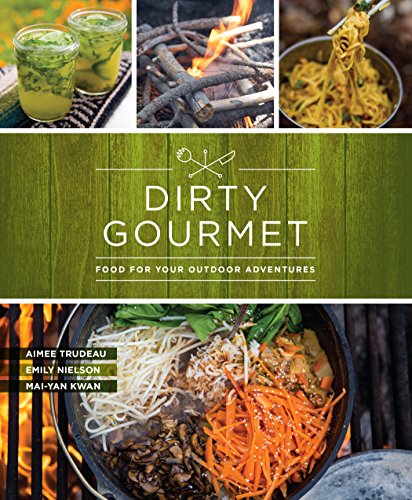 Dirty Gourmet Camping Cook Book
Regular price $24.95 Sale
Please place orders of books separate from other products for the MEDIA MAIL shipping option. You can order multiple books in one order and get this rate, but you can not include other types of products. 
Recipes are organized by activity:

Car campers can relax around the fire with Ember Roasted Baba Ghanoush and Mason Jar Sangria before diving into One Pot Pasta Puttanesca and Grilled Green Bean Salad, with Maple Syrup Dumplings for dessert.
Day hikers will want to take a break on the trail with Spicy Tofu Jerky and Curried Chickpea Salad or maybe a Pressed Sandwich with Sundried Tomato Pesto.
Backpackers can start their day with Fried Grits Scramble with Greens, Leeks, and Bacon and recharge in the evening with Soba Noodles with Sweet Chili Chicken and a Hibiscus Chia Cooler.
To simplify packing and planning, each section offers a base kit checklist of needed supplies along with tips on getting organized, preparing ingredients, and cooking with different methods. Complemented by full-color photos, each recipe features insights from the authors, any additional tools needed, quick-reference icons, step-by-step instructions for what to prepare at home and in camp, plus creative variations.